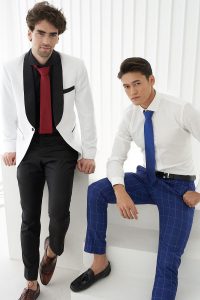 Custom-made shirts—A new narrative that presents men's personalities and enhances their figure. You are one in a million, and unique so why can't your shirt be too? Have you ever bought a shirt you didn't really like just because you couldn't get what you wanted in the market? That can frustrate you and make you feel less confident when you step out. A new path to this confidence rapidly gaining speed today is a custom-made shirt.
Hold up; it's not as stressful and expensive as it's been perceived to be. As soon as some people hear "custom made," what first comes to their mind is "Expensive," and another is "Unnecessary." Some even feel it is only for celebrities or fashionistas and wouldn't want to dive into the beauty of Custom shirts. However, here is another perspective— Custom shirts can last for a lifetime. It not only displays your style but also makes you stand out. You can't compare a custom shirt to a normal off-the-rack shirt; the difference is massive. Custom-made shirts look sharper, specific, and expensive even if you didn't spend so much money.
To make high-quality, made-to-measure shirts, you'll also need to visit the best shirt tailor. While we have a lot of them, we only have a limited number of good tailors in Bangkok and even every other part of the world.
What are the major reasons why custom shirts should be considered?
You'll get your perfect fit
If you want to look sharp, then you should know wearing the perfect fit means everything. It is vital to displaying your flattering features and physique.
This is one of the major reasons for custom shirts; it is perfectly adjusted to your measurement, at the same time providing comfort and confidence. When a shirt is extremely tight or loose, it can cause great discomfort and bring your confidence level down.
Tailored shirts mean you have a say in certain areas like:
The comfort of the neck area
The sleeve lengths
And if you are a tall guy, the perfect fit for your body.
While getting your perfect fit may not be difficult for shirt tailors, you must know your body type. Thus, the focus should be on the body you have presently. Barry bespoke tailors have special fits and types like;
1.Tuxedo shirts
2.French cuff shirts
3.Slim fit
4.Athletic build
5.Big and tall
7.Short man
These are all to fit the body build and personal preference of each individual. Other good tailors in Bangkok are also conversant in this area. Good workmanship is key to how fitted your shirt will be.
Quality materials are often used
Usually, shirts off the rack aren't really big on quality. We can't blame the system for trying to cut costs as a result of massive production via industrial machines. A lot of these clothes do not go through the analysis of professions, who'll scrutinize and analyze these clothes in detail. Custom shirts, on the other hand, are thoroughly analyzed.
Good tailors in Bangkok value precision; they look out for inconsistencies and readily make adjustments when needed. One of the advantages of wearing a custom shirt is that you get to choose a good quality fabric. This helps you blend better in your environment or any occasion deemed fit for your custom shirt.
You get to display your personality
There are limitations your personality will face when you wear ready-made outfits sometimes. Tailored shirts will help you display your personality; somehow, you will reflect on the finished product. Your individuality will not get tossed aside.
Tailors in Bangkok, like bespoke tailor Bangkok for example,  work with different features and design options. You can select what you want, display creativity, and this will significantly influence the final product. This is not just limited to Bangkok; other counties like Thailand also provide quality customer-made shirts. A good Thailand tailor has one of the best workmanship and will deliver an end product that will not just fit your body but will also suit your personality.
With the help of a good tailor, you can influence the color of your shirt—we all know this is the first thing people see from a distance, even before the fabric type is noticed. It makes the first impression you give. Another thing you can influence is the collar design. The collar is a vital part of the shirt that enhances some features of the upper body. There are several options like spread, button-down, conventional point, tab collar, cutaway collar, etc.
Other features you can also influence includes the shape of your cuff—French cuff, button cuffs, and so on. You also get to influence the shape of your pocket if you want one.
Well spent time and effort.
Making tailored shirts is more comfortable and straightforward instead of roaming several outlets to purchase a high-quality shirt. Working with a tailor means you'll get something done. You'll also get to know when your shirt is coming; this will limit aimless searches at malls and clothes stores, also in cases where an important event comes up and you do not have what to wear, and also no time to search around. Instead of appearing in clothes you purchased because you had no other choice, you can just put a call through to your tailor. This will preserve your elegance and confidence.
Lastly, one of the importance of custom shirts is that they last longer, meaning your money was well spent. The world is constantly changing, and many products are limited; you'll need to be a smart buyer, completely ignoring the price tag sometimes. Making a tailored shirt is a lifelong investment, and there are usually fewer problems that come up with a customized shirt.
In conclusion, getting the right tailor is also key when making custom shirts. You may be wondering, who is the best tailor in Bangkok? Narry bespoke tailors have been one of the top rated Tailors in Bangkok for years and have earned a name for themselves.
Custom shirts are not just for fashion, they are also for confidence, and they serve as a good backup plan in case you cannot seem to find anything that will suit your taste. You should consider getting one done!