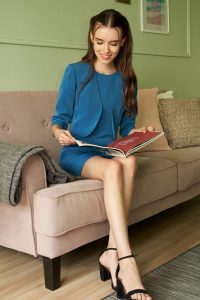 Are you one of those girls who crave to stand apart from the crowd with their unique dressing and fashion style? Yes? But, how can you create a difference?  Everybody wears off-the-shelf dresses like you and buys possibly the best too. So, how it is possible for you to make yourself exclusive?  Well, to be unique, you have to go unique. Stop following the crowd and go for custom-made dresses that will be designed particularly for you keeping your every single need in mind. To meet your purpose, you don't need to go here and there. Here, at Narry, we offer you a variety of girls' custom dresses ranging from casual wear to professional wear and home wear to occasional wears.
Your just customize the dress in your own way and our bespoke tailors will give final shape and a refined look to it. With our tailored dresses, you don't need to worry about the loose, tight, or clumsy fitting. It will be customized according to your body measurement and will fit in you perfectly for sure. Thus, these hand-made clothes will not only add a refinement to your personality but also to your wardrobe. You have full flexibility to choose the style, fabric, and design of the dress. Everything is of your choice. Just tell us what is in your head and we'll give it a shape. We are here just to give your dream dress a realistic look. Play with style, design, colors, and patterns and get a custom dress that will make you attention-grabbing. With us, you can surely get the best-tailored dresses in Bangkok.
Our Bangkok dress tailors will infuse a timeless sophistication with a touch of elegance. Whether you want a go-to party dress, eye-catching floral gown, or maybe something with a retro aesthetic touch, you'll get the way you want in a figure-flattering fitment. Our bespoke tailors pay close attention to the nipped-in waist, shoulder corners, and whole body shape and meticulously stitch it keeping your requirements in mind.
With these custom-tailored dresses Bangkok, follow your own fashion sense and empower your own individual style. The dresses tailored by us are an exhibition of your imagination, style, and fashion sense and our craftsmanship, artistry, and perfection. Flaunt them and steal the heart of people with your inimitable and eye-popping fashion. Our tailored dresses are neither loose nor tight. They are just perfect offering you free body movement without causing any discomfort. The fabric material is also soft, snug, shiny, lightweight, and comfortable. Being the best tailoring in Bangkok, we ensure the dresses to be your size, height, style, and shape. Narry's custom dresses will make you define your personality and your taste with your clothing.
Choose from the limitless selections that are exclusively customized to your taste and take your fashion and dressing sense to the next level with bespoke custom dresses. You won't need to keep your equipped in adjusting the dress. Just put it on and walk gorgeously with all glory charming the people around you.